Aug 29 2008
Wednesday, September 16, 6:00 PM
University of Southern California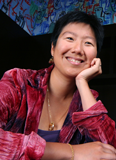 Elaine Chew is Associate Professor of Industrial and Systems Engineering and of Electrical Engineering at the USC Viterbi School of Engineering, where she founded and heads the Music Computation and Cognition Lab. She is a recipient of the National Science Foundation CAREER award and the Presidential Early Career Award in Science and Engineering in 2004 and 2005, respectively, for her research and education initiatives at the intersection of music and engineering. She received her PhD and SM in Operations Research from MIT, BAS in Mathematical and Computational Sciences and in Music from Stanford, and diplomas (Fellowship and Licentiate) in piano performance from Trinity College, London. She founded and directed the Aurelius Ensemble, and served as Affiliated Artist of MIT's Music and Theater Arts Section 1998-2000.
Chew has performed widely as soloist and chamber musician, at venues and festivals such as Los Angeles' Newman and Zipper Halls, Boston's Jordan Hall, the Rockport Chamber Music Festival, Washington D.C.'s Embassy Series, and the Victoria Concert Hall as soloist with the Singapore Symphony Orchestra. Chew has premiered compositions by, and worked with, contemporary composers such as Chen Yi, John Harbison, Cecilia Heejeong Kim, Paul Schoenfield, and Ivan Tcherepnin. Composers Peter Child, Tamar Diesendruck, and Rodney Waschka III have written pieces for her. She has recorded Peter Child's Doubles III, based on songs from her childhood (Albany Records), and his Trio for violin, clarinet and piano (Neuma Records), and Donald Coxeter's early compositions for the soundtrack of the documentary on the geometer's life. Her performances can be heard on WDIY and on WGBH's Art of the States.
MuSA.RT is an interactive tonal analysis and visualization system based on Chew's Spiral Array model, and designed and implemented using Alexandre R. J. François' SAI framework. MuSA.RT identifies the pitch names, chords, and keys, and shows them in the Spiral Array, in real-time, as the music unfolds. The 3D model turns dynamically to the rhythm of the music, presenting the best view of the tonal trajectories. Chew and François formed a research cluster, furthering their work on Analytical Listening through Interactive Visualization, at the Radcliffe Institute for Advanced Study in 2007-2008. Chew has showcased MuSA.RT in concert-conversations, titled The Mathematics in Music, at USC, MIT, North Carolina State University, the National University of Singapore, and the University of Victoria, and in technical and scientific lectures. MuSA.RT, and the concert-conversation at MIT, are featured in the September 2008 issue of Technology Review.
Princeton University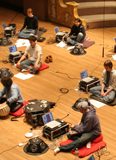 The Princeton Laptop Orchestra (PLOrk) is a newly established ensemble of computer-based musical meta-instruments. Each instrument consists of a laptop, a multi-channel hemispherical speaker, and a variety of control devices (keyboards, graphics tablets, sensors, etc…). The students who make up the ensemble act as performers, researchers, composers, and software developers. The challenges are many: what kinds of sounds can we create? how can we physically control these sounds? how do we compose with these sounds? There are also social questions with musical and technical ramifications: how do we organize a dozen players in this context? with a conductor? via a wireless network?
In its first year of PLOrk's existence, composers and performers from Princeton and elsewhere developed new pieces for this unprecedented ensemble, including Paul Lansky (Professor of Music at Princeton), Brad Garton (Director of the Columbia Computer Music Center), PLOrk co-founders Dan Trueman and Perry Cook, and several graduate students. We have made extensive use of a new music programming language created by Princeton graduate student (now assistant professor at Stanford University|CCRMA) Ge Wang, called ChucK, which allows the performers to develop new code in performance. In our first major performance (April 2006, Richardson Auditorium) we were joined by the renowned tabla virtuoso Zakir Hussain, legendary accordianist and composer Pauline Oliveros, and the exciting young percussion quartet from New York City, So Percussion. PLOrk was featured in the April issues of the MIT Press Technology Review and Wired Magazine, and performed at the Dartmouth College "Orchestras of Sameness" festival in May 2006.
Post-concert exhibit: UBS Virtual Maestro
The College of New Jersey / Immersion Music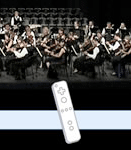 The UBS Virtual Maestro is an interactive musical system that gives audiences the opportunity to experience what it feels like to conduct an orchestra. By waving a Wii-remote, users can adjust the speed and loudness of a high-quality video recording in real-time. This system was built by Immersion Music and has been touring major concert venues across the US and Europe since November 2007. The system has been praised in reviews by NPR, USA Today, The Wall Street Journal, and numerous other online and print media.
Dr. Teresa Marrin Nakra, the project lead on the Virtual Maestro, is an Assistant Professor of Music at The College of New Jersey. She teaches Music Technology, Music Theory, and Game Design. Prior to her appointment at TCNJ, she was the Technical Director of the Computer Music Studio at MIT and taught courses in Electronic Music and Composition at several Boston-area universities. She was a Clifton Visiting Artist in residence at Harvard University in 2002. Teresa founded and runs Immersion Music Inc., a non-profit organization that builds technical solutions for musicians, artists, educators and museums. She served for several years as the Assistant Conductor of the Boston Modern Orchestra Project.